Pathogold Extension Studio - Pathology Management software
Prices for India
Twelve thousand (INR 12000/-)

Inclusive of all taxes
Prices for International
Two hundred (USD 200)

Inclusive of all taxes
One Year AMC Free Software
Register Now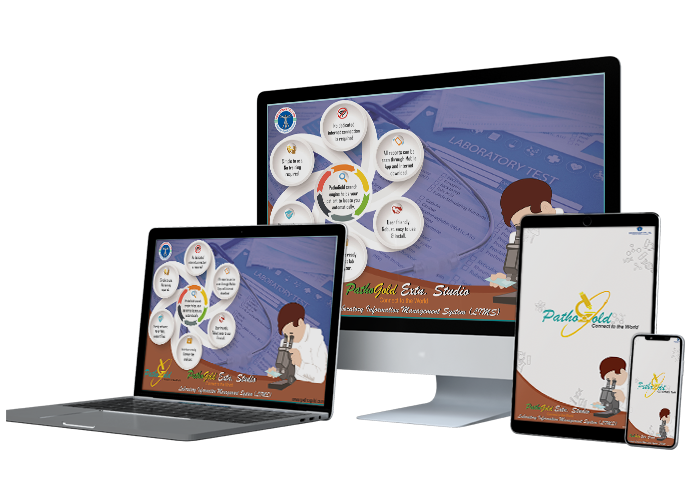 Laboratory Management software - How to Buy Pathogold Extn Studio in 3 simple steps ?

Step 1: Register
Register your laboratory below. Fill all the details correctly and get login credentials through e-mail from Pathogold.
Register here

Step 2: Login
Log into Pathogold member using the credentials and verification code which is sent to your mail.
Login here

Step 3: Buy
In member area. You can download the demo version of the software. You can use it for 20 entries. To activate Pathogold, buy the software from member area and follow the instructions.
Go To Login
Pathology management Software - Pathogold Extn Features
Single Packages for all functions to automate your laboratory

Accounting
No need to accounting yourself. Pathogold has all features regarding maintaining accounts.

Billing
Pathogold generates reporting, billing, inventory, accounting, calculation, search all in one package.

Fastest Execution
It is one of the most light weight LIMS, thus perform every function faster than ever

Mobile App
Pathogold Comes with a mobile application

Email & SMS Facility
Email & SMS facility to connect with patient and doctors instantly

Reporting
Reports can be send directly through email,app or SMS to physicians, consultant or even to patients thereby speeding up the patient treatment cycle.

Search Engine
The first ever search engine for laboratories and diagnostic centres

Inventory
Pathogold offers inventory management
How it works?
Pathogold is desktop and online LIMS (Laboratory Information Management System) solution. It provides a technologically advanced alternative to traditional Cloud based softwares which needs 100% internet connection to deliver the reports. The software works in offline mode and deliver reports in online mode.
Watch the video to learn more
Laboratory Registration
Register your lab here to buy Pathogold Software and to become a part of Pathogold Search Engine
(if you are not able to fill the form, please send your Enquiry to info@birlamedisoft.com)
Please select the software which you are looking for ? Pathogold ? Maxim-LIS ?
Trusted by many leading laboratories